Posted in: Sport
Over a month after I ordered them and over three weeks after my CC was billed my Power Rings have shown up: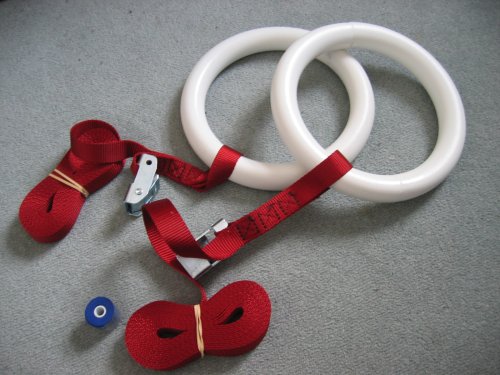 I've been having a lot of fun with beginner gymnastics and have been eagerly awaiting these. My biggest strength achievement today was leaving them (mostly) alone and writing some software for a client instead of messing about with these new toys...
For what it's worth, these rings, the DVD, and shipping came to $159.40 which at the exchange rate at the time worked out to £88.35. Compare this identical product on sale in the UK at a ridiculously overpriced £99.95 for just the rings. That's even more pounds than the dollar cost! Their kettlebell prices are even more obscene costing over twice their competitors. As I've said before, greedy UK importers seriously need to go stuff themselves.
Posted by Paul Makepeace at March 4, 2005 16:00 | TrackBack