Posted in: Sport
Possibly the cheapest piece of functional home gym equipment's gotta be a hand-gripper, bar perhaps a 10kg plate. Whereas it's quite easy to ignore a 10kg lump of iron lying on the floor, resisting picking up and squeezing a hand-gripper presents a serious challenge, at least for those of us with Y chromosomes. Can I close it? How many reps can I do? Can I do more than my friend? If I use this regularly, just how Herculean and irresistible would my forearms be?!
Now imagine that appeal combined with a real challenge: that the gripper itself is so hardcore you can't even close it...
...the top of the range version being so tough that only five men in history have been certified as able to touch the handle tips together.
And so the allure that drives sales of IronMind's Captains of Crush grippers. Considerately, IronMind also produce products for those not competing in World's Strongest Man but even so, their entry-level product requires 100lb of force to close. A typical "hard" squeezer from a gym store is 30-50lb.
So obviously I couldn't resist. The Trainer (100lb) and #1 (140lb) arrived this morning.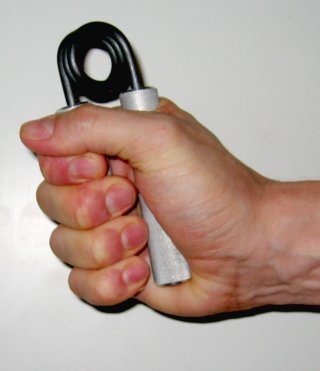 This pic took about eight takes. I can barely hold my mouse now.
I can close the Trainer for about four reps (both hands, surprisingly). The 140 pounder isn't even tantalisingly close so another $17.00 shipping fee from the States won't be needed any time soon. (It's cheaper to buy from US even with a third of the cost being in shipping. Greedy UK importers can go screw themselves.)
The build quality on these products is great: all metal, knurled for excellent grip, and plain comfortable. Fun too!
Posted by Paul Makepeace at January 25, 2005 12:14 | TrackBack