Posted in: Drivel
This time last year I was in hospital with two feet looking much like this,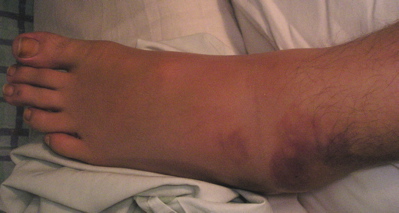 That'll learn ya to go climbin' up the side a' houses after sluggin' 40s ya stoopid dumb shit!
One month in hospital, few months in a wheelchair, and since then gradually being in less and less pain walking. I can pretty much walk like a pro these days although it is still uncomfortable. Which sucks. Walking's a pretty basic activity, as is getting out of bed (although I don't do that so much these days) and being in pain the whole time is irritating. Still it's getting gradually better but I'm definitely into the long tail of recovery.
On the plus side, I can do about everything else again, even "running" very short distances. So, if you've got a calcaneal fracture it ain't
I heard from someone that after a neurological trauma learning to walk is the second last thing people manage - it's really pretty difficult. The first? Brushing your teeth.
Posted by Paul Makepeace at May 14, 2006 23:00 | TrackBack