Posted in: Sport, Tech
I took the mini interval Tabata timer I wrote last night and added programmable work/rest periods, total number of intervals, separate total and interval timers, and, crucially, a fixed 10s countdown to get in position. I think this is pretty well as much functionality as a high-end stopwatch.
Download IntervalTimer_20050410.exe. Still 20KB :-)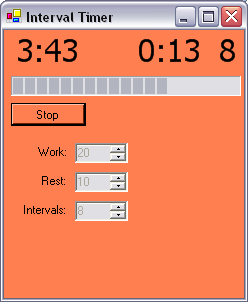 Hmm, I'd only really intended this as a way of learning a bit of .NET but it's proved itself quite handy already. Now, if I would only get the b*astard to deploy onto my phone...!
Posted by Paul Makepeace at April 10, 2005 02:44 | TrackBack