Posted in: Sport
I've been jonesing pretty badly the last couple of months for new kettlebells. I've had a 16kg ("pood") KB since August after attending Lee Hadden's seminar. While it's incredible what can be done and for how long with a single piece like that, I've been ready for more. Enter the realms of double-handed work and some heavier weights...
One thing that's been pissing me off is that they are, IMHO, quite expensive. The cheapest going rate in the UK is £50 for the 16kg which just really seems a lot of money for a lump of iron. Anyway, I swallowed my frustration and made a deal with Neil at powerseekers and picked up a full set on Sunday. Two each of 16kg, 24kg, and 32kg (the standard sizes).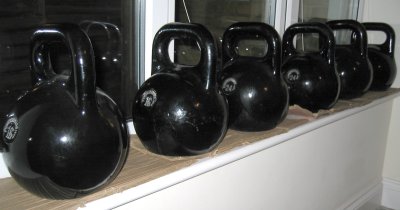 Oooh, baby
It was one of those happy coincidences where Nik had happened to have already rented a car so we drove across town (30km!) after a fairly heavy club night and picked them up. I really enjoyed the drive: good chance to chat with Nik in person, learn some more of London (we navigated with my GPS + TomTom software set to "Shortest route" which sends you down all manner of bizarre little alleys), meet other KB users, and as it happens pick up about 500 CDs from a super cool music journalist who was throwing them out (gotta love freecycling!)
When we got back I took Nik through the basics and handed him my old 16kg 'bell. It was great seeing someone, esp. family, get excited about it too. I also managed to pretty thoroughly cane various muscles with the heavier weights and new moves I could do. Excellent! Feels great.
It might seem sad, but I was ridiculously excited about this on Saturday night. Over the last few months I have really got myself into a real froth over training. I'm in the process of figuring out how as goddam if I could just bottle this enthusiasm...
Posted by Paul Makepeace at March 6, 2005 23:44 | TrackBack