Posted in: Drivel
Last night was the second London Pillow Fight Club which amongst other notable features was live on ITV and had probably a thousand people involved or watching. Here's a video (2MB, AVI).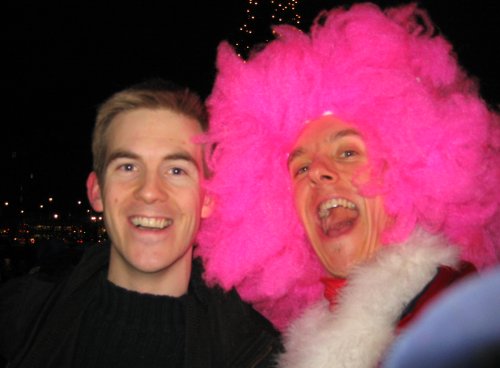 Tom and Me
So, stood around chatting with Dom, we were approached by a chap and our conversation went roughly like this:
Him: Hi, are you organising this?
-- I'd turned up to the gig in an increasingly dishevelled velvet jacket, a Santa outfit, an enormous pink afro, and of course with a pillow. I looked ridiculous. And out of a crowd of a thousand people he'd picked me.
Me: Not this one, no. Anything I can help with?
-- I know the organisers but my involvement for this event was absolutely nothing. Still, try to be of assistance, right?
Him: Is there a Lost Property place?
-- OK, now this is funny. A few hundred people thwapping the stuffing out of each other at the top of the stairs in Trafalgar Square does not automatically imply existence of a field-tested municipal infrastructure. Still, worth a shot, eh?
Me: Heh. No. What are you looking for?
Him: The hood to this jacket, it's come off somewhere.
Me: Ah, like this one? *points to hood of jacket I'd been looking after for a bit*
Him (suddenly delirious): Yes, that's it! Er, here, have some chewing gum!
I love how the world works out like that ;-)
In other news that night... I was interviewed on Mexican TV and asked whether we risked arrest spreading feathers all over a public place. Quite off the cuff I said, if it's legal for pigeons to do so why not humans? Can you tell I'm not a lawyer.
(By the way, quite a number of people put in a solid effort clearing up the feathers, including an imaginative technique by one of the Skatefresh crew skating along with a pillow held to the ground, which others on foot then picked up and used quite effectively. I found a large bag and had been using my hands 'til that point. Bravo skaters!)
Posted by Paul Makepeace at
12:35
|
Comments (0)
|
TrackBack