Posted in: Drivel
Homage to a unique, so far as I know, UK product.
So walk into a take-away late at night and you may never be aware of the undocumented skanky creations called 'chip kebabs'.
These impossibly delicious concoctions, rarely on the menu, consist, ideally, of chips, salad, burger joint mayo (the variety that is only available in bulk from wholesalers: mostly vinegar, virtually no egg - mmm-mmm!), and shitloads of chili sauce, often in pita bread. They're about £1.30 or so and are the ULTIMATE late night meal. Bar none.
The hardest part of cycling home this evening was simply not stopping at a kebab shop and succumbing to my overwhelming desire to scarf down a chip kebab. Arriving home it occurred to me: I have all the ingredients. So help me god I will make one. OK, bar the biohazard chili sauce; the Cajun marinade substituted admirably. And indeed it came to pass, frozen chips microwaved and grilled, mayo slathered with playschool abandon, all on a vinegary salad. Dee-fucking-vine.
The physicist in me was agitated: the creation of said shouldn't strictly be possible since they are only able to summoned into existence by special request in the shady quasi-demonic portals of late night British kebab shops. The pragmatist (i.e. stomach) was satisfied however: my creation was a sufficiently revolting facsimile.
I didn't pull, but god damn I had a great kebab.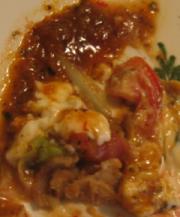 Posted by Paul Makepeace at May 30, 2004 01:36 | TrackBack