Posted in: Injury Time
Snazzy, molded-grip, bronze pimp canes came today: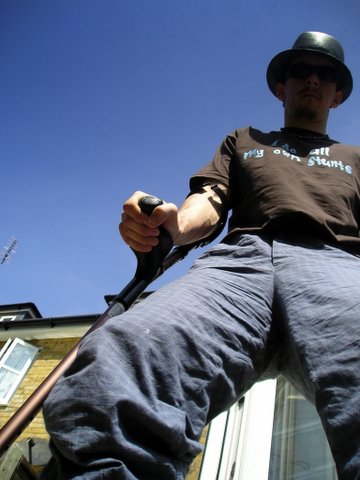 Upright for first time since Friday 13th
I donned both Aircast boots and headed into the garden. Trickiest bit with crutches seems to be when it's all going wrong (i.e. more or less immediately) the reflex, despite not using my feet for eight weeks, is to transfer all my weight to my feet, off the crutches. Which is obviously exactly the wrong thing to do. Still, managed to shamble around outside and even up the ramp into the living room later in the day. In the evening I was a little more coordinated and wearing a shoe on my left, un-surgery-ed foot: it held up fine.
Mum found this article on calcaneal fractures. I find reading these kinds of text tough: difficult to face the likely reality ("few people go back to high-impact or contact sports") but useful for learning what to expect, and whether I might be doing something too early.
All very promising though!
Posted by Paul Makepeace at July 16, 2005 22:27 | TrackBack