Posted in: Sport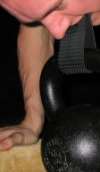 When you can do more than 20 reps of a given exercise any further progress is strictly in the realm of muscular endurance rather than strength gains. Building strength means increasing resistance. This is a bit tricky with pushups, a bodyweight exercise.
So, having been staring at Henry Rollins's arms at one of his spoken word gigs the last three hours something had to be done. And that almost certainly would involve a kettlebell...
I needed to add my kettlebell's 16kg mass into the mix somehow. Stuffing it into my training fleece was an option, albeit it an incredibly dumb and probably stupid-looking one, as was wrapping a belt around my head. I was about to try that when I thought "why not grip it with my jaw?"
I tried with a sock first: too springy and slack. Having seen a circus performer spinning from the Big Top held up only by her jaw and a leather strap it was obvious that that would be the ideal choice. Even if I'd felt like carving up a belt none of mine are wide enough (of course I had to stuff a couple in my mouth to find this out...).
Then I got it: I have a pile of car footwell rubber mats in the shed (don't ask) and at only a pound each I can afford to hack them up. After a few experiments, a bunch of prototypes, and a puddle of rubbery saliva it was ready.


The Homemade Kettlebell Jawstrap!
It's about 25cm long and the groove cut-out is where your tongue goes, an attempt to reduce the gag reflex.
A few bricks are needed to step up the height that the kettlebell consumes.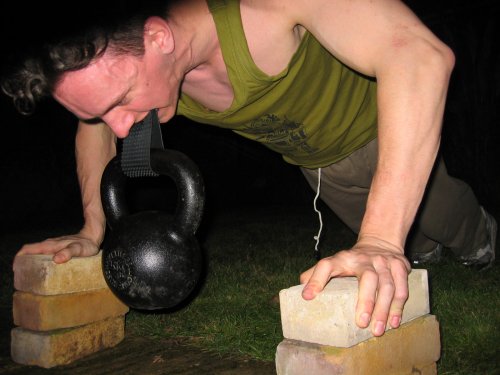 The Kettlebell Pushup! It's dark because it's 1am.
It definitely works. I could only squeeze out about 15 reps before my arms gave out and I choked it all up. Immediately then discovered this configuration has a built in drop-set mechanism so without missing a beat battered my pecs & tris for another few of reps without the KB weight.
It's not all that hard keeping a grip. The gag reflex really is the biggest hassle, and it's not that much of a hassle. Crucial part of weight training is mind-over-matter so maybe not such a bad thing to throw into the challenge. My pecs have much more of a post-bench feel than post-pushup. And a pumped neck is odd ;-)
Ah, the things to do on a Saturday night...
Posted by Paul Makepeace at January 30, 2005 01:50 | TrackBack