Posted in: Drivel, Nature
Outstanding night out Wednesday with Courtney at Heaven, preceded by excellent-as-ever meal at Sarkhel's across the street despite various amounts of psycho-noise in my head. Mercifully drowned out later by club music, spirits, flesh, and dancing (wherein I learnt a move from C. I have promised only to use for the Power of Good).
I was definitely in an altered state when I got back; there's a shrub being "trained" into a tree in the back garden. It doesn't apparently like this happening to it, although the mile-a-minute vines are quite down with being pruned regularly, in a "really bwoss, we jus' cayn't help ourselves!" kind of way. Honestly, I was not on drugs.
So. 5am. In the garden.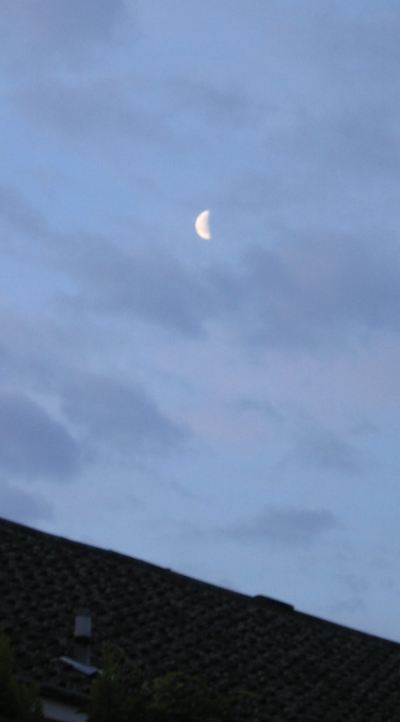 Dawn moon. Pure magic.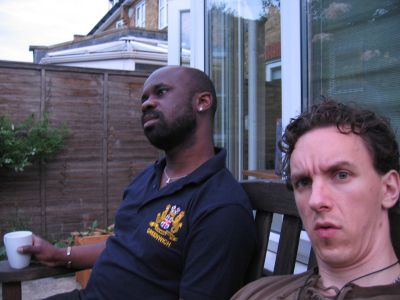 Do not put either of these men in charge of your webserver.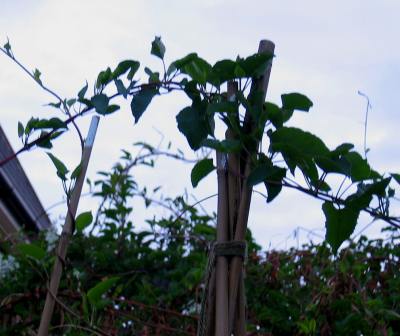 I am developing, after three decades absent appreciation, an abiding fascination with nature and its relentless growing. Having a garden is such a pleasure. Although this photo doesn't really show it well, the vine has somehow grabbed onto the top of this tomato plant frame, entwined itself and continued on with its rampant domination of the shed. Really, there is this inexplicable metre or so where the vine appears to have grown horizontally through thin air to catch onto the frame. Nature, and probably our cocky resident blackbird, only know how it managed this. Awe inspiring.
(Mention must go to Chris who I think unintentionally outdid himself and probably 90+% of commercial catering establishments by producing this, and I'm going to use the word again dammit, outstanding

, pesto, sun-dried tomato, and wafer salami dish. C. & I polished off the leftovers off at 4:30am with appropriate reverence.)
Posted by Paul Makepeace at June 11, 2004 01:50 | TrackBack