Posted in: Drivel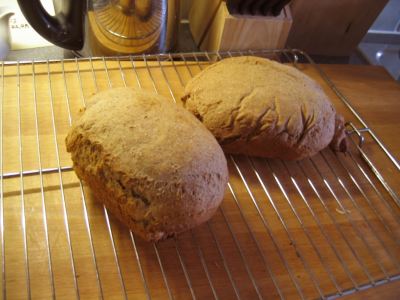 Here's how to make it:

Put a couple of teaspoons of dried yeast in a glass, and add about 100ml of warm water and a few teaspoons of sugar to it. Mix well
Wrap a dishcloth around your glass and leave for about 20mins
Meanwhile, copiously grease a baking tin
Come back to your yeast and it should've frothed up somewhat
Pour in three or four mugfuls of wholewheat flour. It doesn't matter too much for now. Pour in the yeasty water and mix, bit by bit. Eventually it'll end up a ball of dough.
At this point transfer to a board and start kneading it, adding flour 'til it's slightly tacky but not peeling away and leaving itself on the board. I kneed for a few minutes. This bit is fun!
Place the doughball back in the bowl, cover with a damp cloth, leave in a warm place for about 30mins, turn the oven on as high as it'll go - usually around 200°C
After that 30mins, it will've risen somewhat. Place it in the baking tray, put in the oven for about 35-45mins depending on its size. Check after 35: if the crust is dense and there's a hollow sound when you tap it with a knife, it's good.
Transfer back to the board on an oven shelf or proper rack so it can cool off.
Resist eating it 'til it's reasonably cool. This is the hard bit.
Enjoy!
The point is it's not rocket science. I have baked a ton of bread while at university and it's almost impossible to screw up, and even when it doesn't rise, is too tacky, too dry, there's always something tasty you can do with it: toast it, add to soup, drench in butter, jam, ...
Try switching water for orange juice, add chocolate chips, nuts, raisins, sun-dried tomatoes, bananas, herbs, whatever else you feel like experimenting with. It always seems to end up delicious!
Posted by Paul Makepeace at June 15, 2004 17:31 | TrackBack