End Of Da Line!
But not without saying hello to ... you guessed it!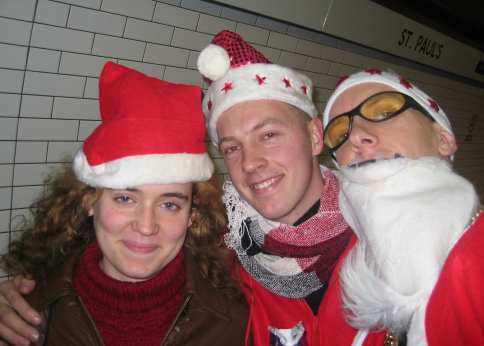 The Rest...
Santa Ali G's camera's battery is knackered here, and gave up. Which is a shame 'coz it would've witnessed us getting into the Medicine Bar. Quite how this happened remains a mystery - we're talking about one of the trendiest busiest bars in one of the trendiest bits of London on a Saturday night. And two nutjobs in Santa outfits end up on the dancefloor, ripping it up without bouncer hassle. Surreal.
Next up was a well blingin' party in a Hoxton pad but that's a whole 'nother story...
Bo!
We hope you've enjoyed our little excursion into the lives of Santa Will and Santa Ali G, and the rest of the lovely Santacon troop! Do join us next year, or better yet in the mean time, drop us a line or come party!
Still want more? Check out other Santacon photos.