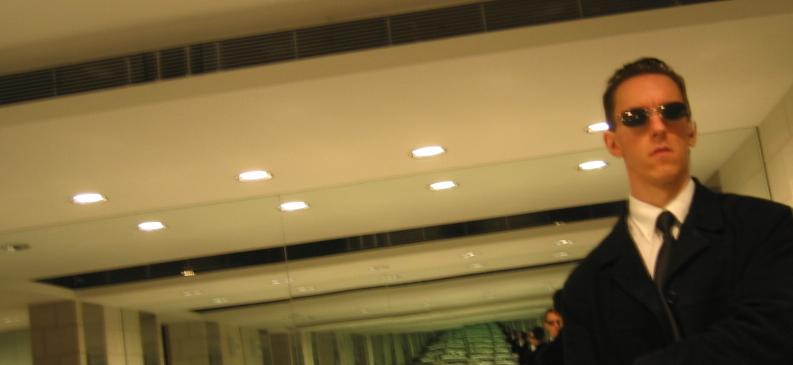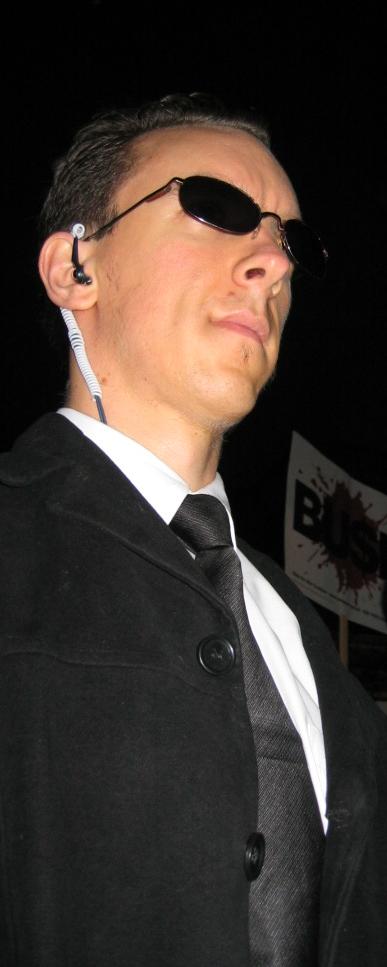 Thursday 20th November,
Operation Agent Smith
was in effect during the
UK National Anti-War Demonstration
. My mission was to accompany my friend Mo Scott, and ensure the fabric of reality was not compromised. The Operation was announced with minimal advance notice, as is often the M.O. with top-level surveillance ops. I had to rustle up a full agent outfit from spare parts: biker gloves, black knee-length coat, shades, in-ear 'phones, white shirt, black tie, plenty of hair goop.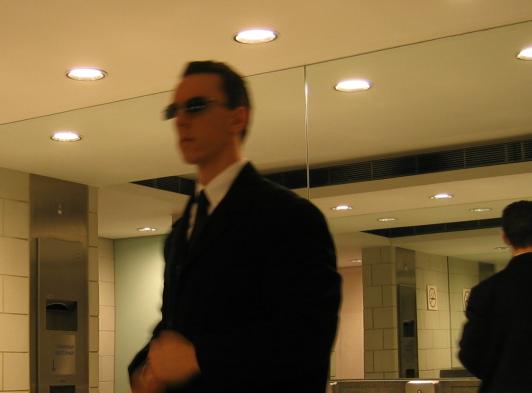 Essential Agent Facts: It seems practically impossible to get wrap- around shades in East London towards the end of November. I had to mess with some I already had, bending them inwards and upwards to get that insecty/Neo look.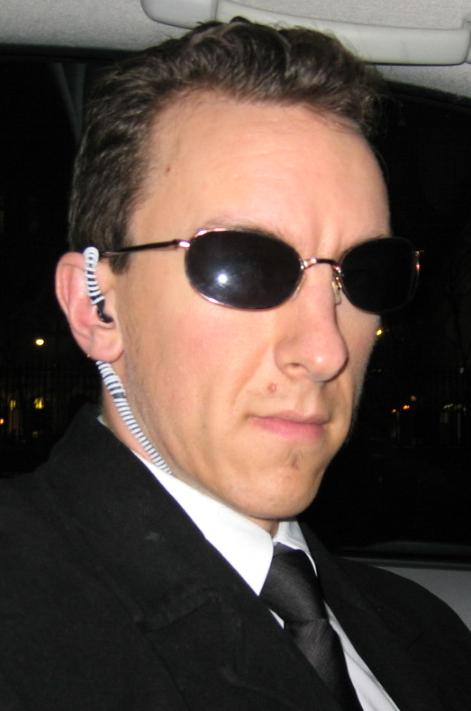 As Agent Smith points out, the ear mike is essential. This I created out of the little curly lead/cable that stop folks from wandering off with pens after signing at the shop counter. This I chopped from the 50p pen I found in a tat store, and wrapped around the 'phones. A dab of sticky tape behind my ear and that was it. Instant CIA goon.
Essential Agent Observations: despite 300,000+ protestors, not one will jostle you, jump ahead, push in, or in fact engage at all except behind the lens of a camera. As Mo pointed out, they probably know it's not real but there's always that residual doubt... Are you feeling lucky?
(In fact a few people came up and asked if I really was an agent. There was me thinking my outfit sucked 'cos I didn't have a full-length coat and properly black shades!)

Several other Agents were sighted, though only one to my knowledge taking pictures of himself in the British Museum men's toilets.
Mission Report: Reality remained war-stricken but consciousness was altered somewhat during a superb post-event meal at the Thai Garden.
Overall: Mission Successful